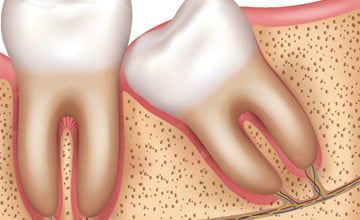 Some people might opt to avoid having their wisdom tooth removed, but escaping the process might put you at further risk down the line. The immediate dangers of an unaddressed impacted third molar can include pain, inflammation, difficulties in eating and speaking, and infection. But as time wears on, its effects may worsen.
Our teeth are naturally programmed to erupt, so if it can't find a way to surface through the gums vertically, it will find any other way to emerge. Often, the only course for a third molar is sideways, with its crown pushing on the side of the second molar beside it. Initially, you're only likely to feel pain. However the constant pressure can take a toll on your teeth's alignment.
The longer that you leave the third molar in its place, applying pressure on neighboring teeth, the stronger its impact on alignment. In some of the worst cases, impaction can lead to malocclusion, changing the way that your upper and lower teeth occlude. This won't only lead to cosmetic issues, but may also heighten the risk of tooth decay as more and more surfaces of your teeth become inaccessible to traditional cleaning methods.
If you want to learn more about the risks of leaving an impacted third molar alone, visit one of our dentists in Vaughan, Ontario. Our experienced dental care experts can shed more light on the risks of third molar impaction so you can make a suitable decision for your oral wellness.
If you're more concerned about the cost or worried about the pain that the procedure may cause, it might help to know that our dental professionals are highly skilled in the extraction of wisdom teeth, guaranteeing minimal discomfort during the procedure, and premium aftercare to soothe your worries well after the process. We also offer fair, competitive prices and a range of payment options to fit your financial capabilities so you can enjoy dental care you can afford.